Who's Behind Hippocampus Online?
Hippocampus Online is run by two professionals with a long history in education for animal behavior consultants and trainers. Both believe strongly in the value of quality education for beginner and experienced pet care professionals, while also enjoying a quirky sense of humor.
Katenna Jones, ScM, ACAAB, CCBC, CDBC, Certified Fear Free Trainer
Through Jones Animal Behavior, Katenna Jones provides in-person and virtual behavior consultations as well as educational seminars to pet owners, rescues, and other pet professionals. She speaks at international events, contributes to a wide variety of publications, and is author of Fetching the Perfect Dog Trainer: Getting the Best for You and Your Dog. Katenna began her career as a shelter volunteer in 1999 and went on to earn her Master's Degree from Brown University where she studied animal behavior, learning and cognition. Eventually, she became a cruelty investigator, worked for American Humane Association and also for the Association of Professional Dog Trainers. Katenna is an Associate Certified Applied Animal Behaviorist, Certified Cat and Dog Behavior Consultant, and a Certified Fear Free Trainer. She shares her RI home with one dog, two cats, seven chickens, three ducks, and several thousand bees.
Mychelle Garrigan, MSW, CDBC
Mychelle Garrigan runs Firelink Digital Marketing which focuses on small to medium businesses and non-profits, with a special niche for pet care professionals (Pet Pro Marketing). She provides a full range of online business services include website design, copywriting, SEO, Google analytics, and web accessibility audits. She also has a specialty in helping individuals develop online course platforms, whether it's on their own website or using pre-configured learning management systems. 
Mychelle's professional background includes over 20 years working in administration, development and marketing/communications positions in the non-profit world. She currently serves as the volunteer Executive Director of Siouxpercon, a 501c3 charity in Sioux Falls, South Dakota.
Mychelle has a long history working as both staff and a volunteer for various shelters and rescues. She is a Certified Dog Behavior Consultant through the IAABC. She has been a regular writer for several websites on dog and cat behavior and training and small animal and reptile care. She also served for many years as editor for both the IAABC and the APDT journals and as the Technical Course Manager for IAABC's online education program and was the original website designer for their award-winning journal. Mychelle lives with her dogs Kaylee and Jack, bearded dragons Haku and Ivy, ball pythons Geralt and Sienna, cockatiel Torrent and green cheek conure Amos, and several fish in Sioux Falls, SD.
Ok, so you may be wondering why we choose the name Hippocampusonline for this site. (Well, for one thing, hippocampus.com was taken!)
Read on to learn about the number of reasons for how we chose the site's name, which is definitely a word you don't hear everyday. 
It's a Part of the Brain ... Which is Kinda Helpful for Learning ...
The hippocampus (or hippocampi, because you actually have two) is an important part of the brain, specifically the limbic system. Without it, you can't create and store short-term memories, which makes remembering what you've learned a bit difficult. It's also important for "spatial memory" which is how one remembers directions and navigation in familiar places over time.


The hippocampus also plays an important role in handling emotions and social cognition. In fact research is finding that targeting the hippocampus can help treat mood disorders such as depression and anxiety. Another set of emotions and behaviors that the hippocampus is necessary for is motivation and inhibition. Anyone who's worked their way through an educational course knows you can't finish without either of those.
It's a Cool Mythological Creature ...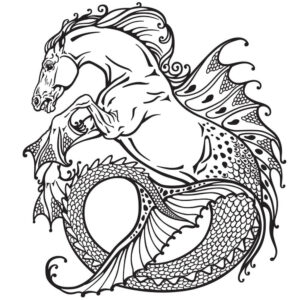 The word hippocampus comes from the Greek. "Hippo" means horse and "kampos" means sea monster. In Greek, Phoenician and Roman mythology, the hippocampus was pictured as a horse with a fish tail instead of hindquarters. Poseidon, the God of the sea, and horses, rode hippocampi and used them to pull his chariot through the waves. They were generally regarded as a benign creature who was described as saving drowning sailors. As a result sailors considered them a good omen during their journeys. 
Hippocampi were also considered a symbol of creativity and the imagination. The mythological hippocampus eventually became the inspiration for the scientific name of the actual seahorse (genus hippocampus).
So how did the hippocampus in the brain get its name from a mythical horse crossed with a fish? Well, researchers who began the study of the brain thought that the shape of the hippocampi looked a bit like a seahorse.
It's a Place of Learning ...
The name also invokes the image of "campus" which is a place for learning, the goal of this website. We'd like to think of Hippocampus Online as a place to grow your animal behavior and training business, whether it's through gaining new technical skills to better the lives of companion animals and their humans, to learning new business skills like how to increase your reach through marketing strategies.
Mychelle really likes seahorses and they're among the many type of fish and sea creatures she keeps in her home (and many hippocampus-inspired tattoos), so , there's that …